Fat Tire Fest 2023, October  20-22, 2023
Complete Field Guide to the 2023 Fat Tire Festival
Event Check In Opens at 9A on Friday October 20th.
The Riding
There will be professionally guided rides available Friday and Saturday with options for everyone, from
family paced mellow low mileage / low speed jaunts to full-on-worm-burning epic rides.  All rides leave from the vendor expo area and there will be multiple ride options rolling throughout both Friday and Saturday.  When you check in to the event you will receive the hard copy schedule including all the rides and all other activities for the weekend.  You will also receive a hard copy of the maps of the trail network and GPS files will be available for download prior to the event and onsite.
The Trails
With over 35 miles of trails at the FTF location, the riding is amazing. CampO's buffed in and rocking 10 miles of trail is all within thier 800+ acres.  These are professionally crafted MTB trails that provide a fun network with great flow and fun for everyone.  Then we have the expansive Forest Service trails with 25+ miles of everything from super rowdy and rugged to wide open double track, original Shawnee goodness.  We also have full use of the Glendale trail network, the original home of Fat Tire Fest!   Glendale is about 10 miles, as the crow flies, from the expo area, about a 25 minute drive, and some of the best old school trails in the Shawnee!  This ~15 mile trail network includes slickrock, bluffs, tech and flow.
Bike Demos
We will have demo's on site for you to throw a leg over and take out into the dirt, all will be available for real demo rides on our CampO trail network!  The only limit to the fun will be please bring them back within one hour so others have a chance to try them out too, but feel free to take them out multiple times and try multiple bikes!
Rail Trail Ride
For the mellowest riders we go offsite on Saturday to the very scenic Tunnel Hill Trail, a short 10 minute drive away, for a fun ride on southern Illinois' only rail trail.  Experience riding through a tunnel over 500' long, riding across multiple trestles, the largest of which is 400' long and over 100' high and enjoy the fun of a meandering ride on the relatively flat trail. This ride is an out and back so you can go as long or as short as you want.
The Races
Finally on the riding front, for those looking for something a little competitive and a LOT fun, a couple races for everyone.
First up the original CampO Off-Road Crit, join in on the fun;  a one-mile course combining a bit of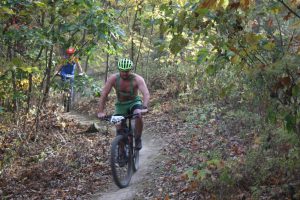 everything from gravel to stair drops to smooth singletrack.  We race for 30 minutes +1 lap and the prizes are huge, the biggest of which are the bragging rights which are yours to flex all weekend long.  Podium ceremonies happen before dinner on Saturday evening.
The second race of the weekend, the FTF Bracket Race, happens Sunday at 10A.  We will be racing one lap of the CampO 10 mile course, and to level up the entire field, we will score this one on the accuracy of your predicted finish time.  As you sign up for the race you will receive your bib number and you will predict your finishing time.  Of course no electronics will be allowed and cheating will be punished with the harshest of consequences.  The podium ceremony for this one will happen during the final lunch at the new dining hall.
The Venue
Camp Ondessonk, located in the heart of the Shawnee National Forest, is an amazing destination that has served as the location for Fat Tire Fest for the last seven years.  They provide us with treehouse accommodations for all, have tent camping options if you would rather, and a number of spots for RV's too (no hookups though), let us know when you sign up which you would rather do. The treehouses give you the outdoor experience like no other, without the hassles of packing all your camping gear. Think open air sleeping with a roof over your head, no doors or screens to interrupt your enjoyment of all things outdoors while keeping you and your gear dry and off the dirt.  Each treehouse has a number of bunks, all with mattresses, and to keep it real, none have power. So, a sleeping bag, some clothes, your bike, riding gear and a good flashlight are all you need to bring. We will have a charging station at HQ with more than enough room for all your devices to get a refresh.  There are flushers and warm showers conveniently located throughout camp to get you back to fresh after a long ride on the trail.
The Refreshments
Those who have been before know; we have the best food and drink of any MTB festival in the country. Hot breakfast both mornings with great food options and plenty o' BACON, a Pulled Pork BBQ dinner on Saturday night, a great beefy pasta dinner Friday night and to cap it off on Sunday an awesome final lunch! We also make sure you have lunch with you on the trail, a full sandwich and lunch snack bar is provided Saturday morning so you can pack yours before you get on the trail and on Friday we have a small sandwich bar set up at the HQ/Expo area and Glendale.  We have water coolers all around at the Expo area and samples of many different performance drink mix options.  Excel bottling makes sure we have soda on tap all weekend. Sponsors provide free beer and are sure to keep the New Belgium brews cold and plentiful to keep those of age frosty all weekend long.    All of this is included for every FTF participant!
Other FUN!
With our move to CampO seven years ago FTF grew from more than just one of the region's best MTB events into a full-on outdoor adventure weekend with tons of fun for the riders and non-riders alike.
Vendor Expo and Prizes
This year we are anticipating many vendors coming back out to the event as in the pre-covid years. We will have prizes from tons of sponsors and they will all be given away throughout the weekend, with the grand prize ceremonies at lunch on Sunday after FTF Bracket Race.
The Quest
We had an amazingly popular, fan favorite addition developed from the challenges of putting on FTF in 2020. The Quest, is an intense scavenger hunt driven from an obscure sheet of clues that will have you exploring all throughout CampO's 800 acres to find the answers and win.  Challenges are presented in the form of riddles and puzzles and the more challenging they are the more points you win.   Put the highest score on the board and take home big prizes!  The year the Quest ends Sunday morning at Breakfast and  winners will be announced and prizes awarded at Sunday's lunch
Fat Tire Challenge Friday Night
The Fat Tire Challenge will go down on Friday night, and always includes the world famous "Huffy Toss", the "Little Kids Bike Dual Slalom", the CampO tug of war to lead it all off and who knows what else we might cook up. We will have a huge campfire going all night long to keep you nice and warm while you wait for your turn at the craziness.
Music by the Campfire Saturday Night
Saturday night after everything else is done and dinner is finished, we will light the fire and warm up the guitar for a nice acoustic night by the campfire at the FTF HQ.
Scary Movie Night in the Woods
Get the $hit scared out of you as you watch a super sketchy scary movie at the most haunted location on Camp property.  Like for real, don't come if you have any cardiac or anxiety issues, you will be scared, a LOT.  Set the Terror Level at CODE BROWN and bring a change of pants.
Sunday Morning QuatrO-Face Race.
Sunday morning, just after breakfast, we all jump in for the QuatrO-Face Race! DO NOT miss out on the FUN that is the QuatrO-Face Race, a new race concept rolled out at FTF 21.  This ALL bike race with two gravel segments and two MTB segments gives you a great challenge and a fun way to finish off the weekend.  You can find teammates or run it by yourself, your call, prizes and bragging rights for the top finishers.